Philips BRE201-00 epilator is a perfect choice for you. The epilator easily removes unwanted hair from deep roots without hurting you. Now, you can easily remove your hair from legs, armpits and bikini line without stretching the skin. The efficient epilator comes with sensitive area cap that trims hair from sensitive areas.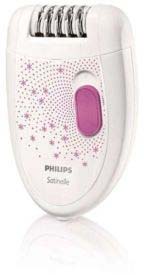 The amazing epilator comes with 2 year warranty period. The ergonomic grip of epilator assists in firm gripping without slipping. The cleaning brush easily cleans the epilator without leaving hair in the device. The portable epilator comes with a disc that traps the loose hair inside the disc.
Gently Removes Hair.- Philips BRE201-00 epilator is 4 times effective and efficient as compared to other means of removing hair. It removes hair deeply and prevents the growth of hair for one month. Now, you can enjoy clean, supple and soft skin along with skin care. The gentle tweezing discs remove hair without irritation.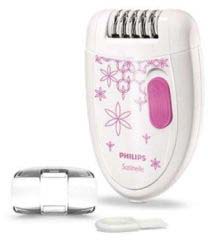 Customization Option.- Philips BRE201-00 epilator comes with one speed control option. Now, you can easily adjust speed according to your need. Remove hair conveniently with Philips BRE201-00 EPILATOR.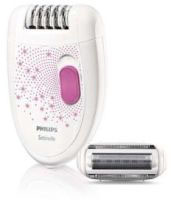 Easy to Wash .- Eliminate hair smoothly from your armpits and legs with Philips Epilator. The convenient epilator comes with a washable head that can be easily detached after use. You can easily wash it flowing water.
Foil Shaver Head .- Philips BRE201-00 epilator comes with Foil Shaver Head. It aids you in quick shaving providing you smooth and glowing skin.
Ergonomic grip .- Philips BRE201-00 epilator has an ergonomic grip that offers you firm grip and prevents slipping while shaving. The firm gripping also prevents the chance of accidents and injury. The high-performance epilator provides better control.
Cleaning Brush .- Philips BRE201-00 epilator comes with cleaning brush that easily prevents the clogging of hair in epilator disc. You can easily clean the epilator disc with flowing water without injuring your hand.
Sensitive Air cap.- The efficient epilator gently waxes your hair without hurting your sensitive skin. It assists in trimming hairs from deep inside the roots.
Cordless.- Philips BRE201-00 EPILATOR is cordless that offer you easy trimming without messing of wires. The cordless epilator also reduces the risk of shocks and injuries while shaving your hair.
Battery Life.- The portable epilator comes with rechargeable battery that instantly charge when supplied with power. The easy to use epilator gives long hours output without hurdling in the process.
Power.- The durable epilator consumes only 7.5 W power and cut down the electricity bill cost. It saves energy and offer you best hair removing experience.